News
Achieve Results with the Right Lubrication Program
January 22, 2021
Don't let complexities in your lubrication program impact your equipment's performance and productivity. The right combination of lubricants can simplify your job, take you beyond original equipment manufacturer (OEM) warranty requirements and keep your equipment running at its best.
Consolidate
the amount and type of lubricants used for your equipment
Reduce
the workload with cost-effective lubricant solutions
Maximize
equipment uptime and extend equipment life
Maintain
critical path construction time and avoid liquidated damages and downtime
Driving Efficiency through Consolidation
Goals and needs can change over time, so a fixed maintenance style rarely yields the best results. We can help you simplify lubrication management with our custom lubrication programs. Protect, advance, and outperform.
---
Please refer to the operation and maintenance manual for OEM lubrication requirements and oil drain intervals for your vehicle or equipment. These are simply mainline, widely applicable starting point products for consideration.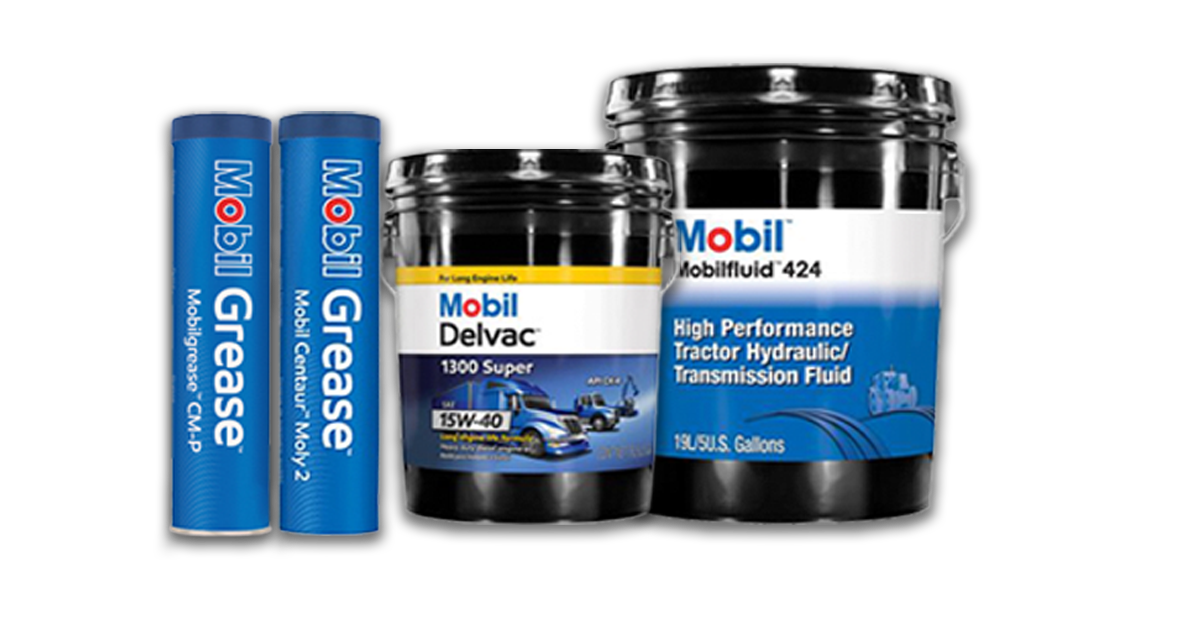 Protect
(Good)
Offers dependable protection
Protect provides exactly what you need for your equipment
Engine oil that meets OEM requirements
Grease that enhances equipment reliability
Transmission fluid that provides wear protection for long transmission life
Heavy-duty gear oil lubricant that provides rust protection along with stability at high and low temperatures
Recommended Products
Diesel engine oils: Mobil Delavac™ HDEO
Manual transmission: Mobiltrans™ HD Series
Powershift Transmissions: Mobiltrans™ HD Series
Gear oils: Mobilube™ HD Plus
Hydraulic oils: Nuto™ H Series
Non-moly greases: Mobilgrease ™ CM Series
Moly greases: Mobilgrease™ CM Series
Engine oil warranty: Limited Warranty for Mobil™ Commercial Vehicle Lubricants
Advance
(Better)
Helps increase equipment life and extend oil drain intervals
Advance delivers more performance and protection for your equipment
Synthetic blend engine oil that delivers excellent wear protection and high-temperature performance
Grease that enables equipment reliability and pin life in severe operating conditions
High-performance antiwear hydraulic fluid for a wide range of startup and operating temperatures with the ability to consolidate viscosity grade
Heavy-duty gear oil that provides rust protection along with stability at high and low temperatures
Recommended Products
Diesel engine oils: Mobil Delavac™ 1300 Super
Manual transmission: Mobiltrans™ HD Series
Powershift Transmissions: Mobiltrans™ HD Series
Gear oils: Mobilube™ HD Plus
Hydraulic oils: Univis™ N Series
Non-moly greases: Mobilgrease ™ XHP Series
Moly greases: Mobilgrease™ XHP Mine Series
Engine oil warranty: Limited Warranty for Mobil™ Commercial Vehicle Lubricants
Outperform
(Best)
Delivers our best performance and longest equipment life
Outperform is the ultimate Mobil lubricant offering for your equipment
Full synthetic engine oil helps drivers fuel economy without sacrificing wear protection and can help extend engine life while extending oil drain intervals
Grease with exceptional water-washout resistance and antiwear capability to reduce maintenance costs and downtime
Transmission fluid that provides maximum protection and extended operating life in the most demanding environments
Full synthetic gear oil that provides outstanding protection in severe-duty applications for longer equipment life and reduced maintenance costs
Recommended Products
Diesel engine oils: Mobil Delavac 1™
Manual transmission: Mobil Delavac 1™ Transmission Fluid Series
Powershift Transmissions: Mobiltrans™ AST
Gear oils: Mobil Delvac 1™ Gear Oil
Hydraulic oils: Mobil DTE 10 Excel™ Series
Non-moly greases: Mobil Centaur ™ XHP Series
Moly greases: Mobil Centaur™ XHP Mine Series
Engine oil warranty: Limited Warranty for Mobil™ Commercial Vehicle Lubricants